Gymnastics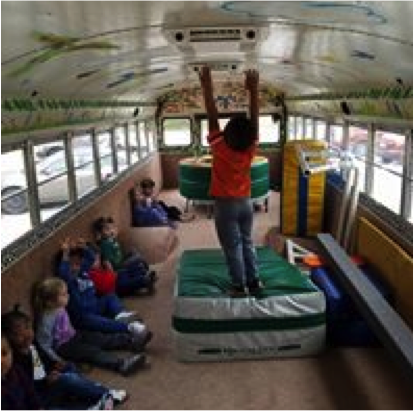 The GYMNASTICS EXPRESS is a very large school bus which is totally remodeled inside. 
All of the bus seats have been removed.  We now have an area to teach gymnastics class that is 7 feet wide by 28 feet long.  There is a nice cushioned, carpeted floor area for tumbling.  We also have specially designed pre-school equipment that we bring in the bus each week for class.
This equipment includes: balance beam, bars, mats for tumbling, stair steps, mini-tramp, trampoline, and various other pre-school fun shaped mats such as a huge donut, incline mat, mail box, octagon barrels, a box and spring board used for vaulting.  By bringing this equipment we will be able to teach all of the Olympic Events:  balance beam, horizontal bar, floor (tumbling), vaulting, still rings, and parallel bars. Our colorful "Fun Shaped Mats" are designed to teach and excite the student when learning the concepts of Gymnastics.  While learning basic Gymnastics, the pre-schooler develops strength, coordination and self confidence. 
In our "GYMNASTICS EXPRESS" bus we also teach many basic skills and words which are important to the child in everyday life.  There are skills such as waiting their turn, praising others, being rewarded for good behavior and following directions.  Common words we use which the children will become familiar with are words such as over, under, around, behind, in front, beside, beginning, end and many, many more.  We feel that we not only introduce them to the sport of gymnastics but also teach them some basic skills of everyday life.  
Soccer

MINI
2 TO 3 YEAR OLDS
Soccer Shots Mini is a high-energy program introducing children to fundamental soccer principles, such as using your feet, dribbling and the basic rules of the game.
Through fun games, songs and positive reinforcement, children will begin to experience the joy of playing soccer and being active.

CLASSIC
3 TO 5 YEAR OLDS (PRE-K)
Soccer Shots Classic utilizes creative and imaginative games to focus on basic soccer skills like dribbling, passing and shooting.
We also highlight a positive character trait each session such as respect, teamwork and appreciation.

PREMIER
5 TO 8 YEAR OLDS (K-2ND)
Soccer Shots Premier focuses on individual skill, fitness and sportsmanship, providing an opportunity for children to be challenged through fun games and team interaction.
Children will also be introduced to competition in a developmentally appropriate manner.